I FORGOT to post this at the time
, but
The Great Alfie
won me the princely sum of £5 (at 5/1) on last Tuesday's 2.10 at Epsom. How exciting!
Ladbrooke's
cashier asked me whether it was a tip and I said no, just my lucky formula. My system involves eyeing up the odds on all contenders. If those on the top 2-3 are ridiculously short I don't bother with any. But if they're spread out so no individual horse really stands out, I usually go 3 or 4 horses down to the one with the nicest name (!) and odds no shorter than 5/1, no longer than 15/1. I've been lucky using this method quite a few times.
Unlike with dogs. Singly, in combination, whatever fancy tricast I tried to make ("reversed" or otherwise) I never EVER won so much as 1p on a dog. So it was quite refreshing to get this free £5 from a betting shop.
Usually all they're good for is the free pens!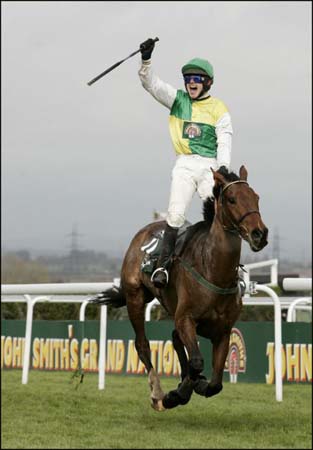 Illustration: Hedgehunter, winner of the 2005 Grand National, ridden by Ruby Walsh (a man). Couldn't find a snap of The Great Alfie. He must be camera-shy!!
The other picture is Girls Aloud's Sarah Harding. Prettier than Cheryl Cole (in my opinion...)
;->...
MUSICAL INTERLUDE: GIRLS ALOUD ~ UNTOUCHABLE
I like this tune:
ROBBIE WILLIAMS: FEEL
This is my favourite one by Robbie Williams
I remember when it once came on in one of my all-too brief and rare clean attempts, bringing on a fit of over-emotion especially the lyric:

I got too much life
running through my veins -
going to waste ...

The actress who looks like Darryl Hannah IS Darryl Hannah.