I GOT A BOOK out the library and stayed up all night reading it.
The author is a kind of friend of a friend of mine... hopefully soon to be Conservative MP for
Corby and East Northamptonshire
at the next General Election. I have watched her career with interest and wish her all the very best.
Louise Bagshawe
"the Judith Krantz
de nos jours
" Her novel Glitz: four ditzy heiresses get in trouble when their evil uncle cuts them off. The resulting fight with Thai prostitute Bai-Ling takes them into all manner of adventures ~~ how I love a good read about rich people who hate each other!
The plot reminds me of another British pop novel that had me rivetted:
The Moneymakers
by Harry Bingham ~ in that book the owner of a cement mixture (or something unexciting) empire dies and leaves his would-be heirs a challenge: whoever can make the most money in the space of something like five years inherits his £20 million fortune. There was a strong religious undertone in that one, e.g. the baddie's name was James Belial ~ Belial rang a bell... isn't it a demonic name? ... And when they met in a London bar named Apollyon ~ I knew for sure. Apollyon is the name of the Angel of the Abyss in Revelation ... very scary!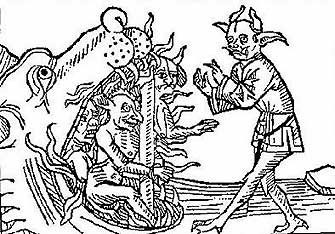 I just looked up
Belial
and it is indeed a
demonic name
... written up in the Bible as "the sons of the uncircumcized"... but a big character in traditional demonology (where I suspect my knowledge came from)...
Wikipedia
says Belial is a demonic name mentioned in II Corinthians 6:15 "can Christ and Belial agree?"... but I don't think that's where I know the name from... which is kind of spooky? I've read some weird books in my time... but where on earth would I first come across a name like that?
Well I did have a fascination in the "new age" (ie occultism and the "dark arts" for quite some years... and was drawn to read some quite eerie tomes in years past, that's all I can say on the matter...
Maybe I have sleep deprivation: it's too much cotton-rich socks, or my brains are frazzled... I'd better go and "retire" for now...!
PS Here's a photo of Louise Bagshawe: with looks like that (remember I said she was a friend of a
friend
~ I've never met her ~ why on earth her publishers didn't make an inside-cover of that lovely face I've no idea...!
Illustrated: Louise Bagshawe's
Glitz
; Harry Bingham's
The Moneymakers
; Belial's mouth propped open in a demonic donkey-derby;
The Complete Golden Dawn System of Magic
"as revealed by Israel Regardie"... which used to be my bedtime reading in one long-lost era... the beautiful Louise Bagshawe...