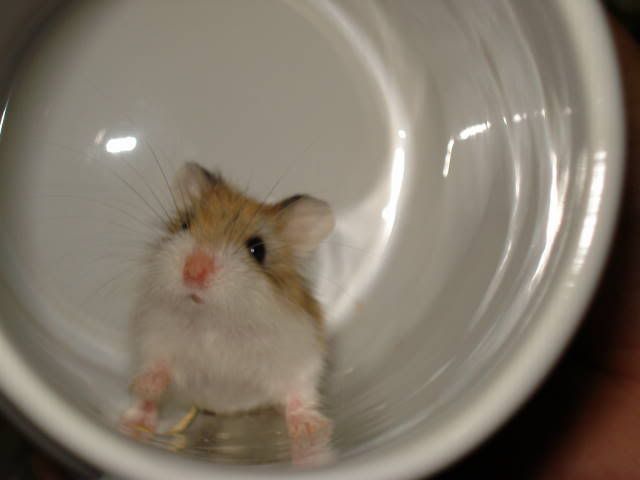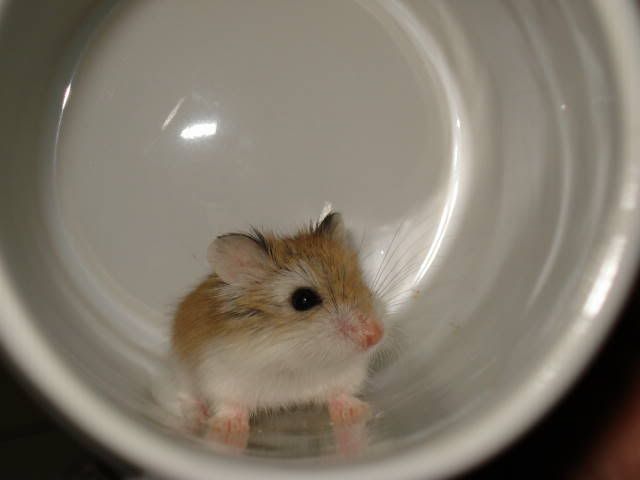 No Part II
(Two spitting-image portraits there of イーチーさん (Iichii-san (see below) my tamest hamster...)
YESTERDAY'S POST was scrawled
on pizza boxes before I took it in here to tap in... I'm glad now I did not type up part II and was cautioned by my own warning, as I don't see it as anything much better than a bit of "drug porn", the ramblings of a user who is just high and glorifying his cocktail of choice and achieving very little else.
Thanks for the answers yesterday! I did read them but haven't yet at time of writing responded to them.
I keep thinking of rehab. There is a kind of rehabilitation you can do where you go into a mixed house full of people with all manner of life problems. It is called a Therapeutic Community and though "therapeutic community" is so often a mere descriptive term for drug rehab (as opposed to Minnesota Method or 12-step) there are in existence mixed therapeutic communities where not everyone's main problem is drugs and some may not be in for drugs (or even drink) at all. (Anorexia, self-cutting and other life problems are the type of thing that would bring people in there.)
Not knowing really where to look I'm going to have a bit of a search around the www for it. But what tends to come to prominence here are the expensive private ones the State will not fund for the likes of me!
If you're wondering why on earth I would want to engage in "recovery"
not
in the uniform presence of other drug addicts it's because I've been in detox/rehab twice (for very short times until I checked myself out!) and, in the second place especially, which was a full rehab, found myself outnumbered by folks in legal trouble whose main motivation for being there was for a "jail swerve" (no wonder talk of prison crops up so very much in places like that: even though in the first such place it was expressly against the rules...)
Junkies all tend to be very much the same and I got bored of the same presentation, the same self-deception and emotional constipation. The only apparent difference between me and most other addicts is that I have picked up from years of counselling
before
the addiction really grasped hold of me, an unusual frankness and an almost complete lack of shame in discussing my emotions. This is so extremely rare in drug addicts, especially common street junkies like me who have taken on their mantle of self-protective manoeuvres many years ago and now find it ever so hard to drop them. It was this quality, rather than anything special about my life story that, I thought, qualified me to pen those memoirs I keep rattling on about. (I'm always going to finish them, but am more minded now to knock out a ficitonal story of drug addiction. The subject crops up so very frequently these days and yet is so seldom written about with any degree of depth or frankness I feel compelled to put the record straight...)
Having said all that, self-deception and emotional constipation are so much the hallmarks of the regular junkie that I'm sure I must have them in spades. Deception, wily as it is, is never going to wave arms yelling "
This is me! Here I am! You're doing it this way
..."
But I would much rather "recover" as I say among a mixed group rather than boring old addicts. They really do get boring and I get fed up of them. Mental patients, on the other hand, differ even more greatly from one another than ordinary people do; I suppose because mental illness and personality disorders illustrate the extremes of human experience...
Now I won't rattle on about boring self any more.
Though I don't really like modern chicklit, I did used to have a thing for the family saga style epics of the 1970s and 1980s. Belva Plain's
Evergreen
would be a good case in point. I'm not trying to fess up that I enjoy romantic novels either! The ones I really liked tended to be long and complex tales of money, hatred and revenge! Not love at all!! My present tome is one I've had for donkeys years and somehow picked up in my hurry to flee the last place (where I left more than half of my old possessions behind): Barbara Taylor Bradford's
A Woman of Substance
. If you like the old television series
Upstairs Downstairs
(about life, as the title says, amongst the servants and family in an upper-middle class family at the turn of the 20th century (how old I feel having to specify which century I mean!) I think BTB's prose, at its best, is quite luxuriant and elegant (though I have to say she uses twice or three times the space I would to tell the same tale). The only irritating thing about it is a tendency to treble-underline everything in metaphorical red pen: yes we did pick it up first time Barbara you don't have to rub it in! As I say it's not really a love story, more a tale of money, power and business success. One day I'm going to write an historical novel with these ingredients. I already have my characters and theme, I just need to do research first. (And plenty of it.)
The Roborovskis paid a visit in their diggery to Mother Hubbard's house last week. I managed to get Baby Itchy to walk about on her hands. It was funny though, Itchy was far more confident rambling about on me than anyone else (and I had to be ever so careful that she didn't hop off and ping across the floor...) Of all my Trotterovskis, Itchy is the ONLY one who will countenance rambling about my hands, and even that she will only tolerate for five minutes tops until she gets fractious (and has even tried to bite me!)
まだ日本語を勉強します
mada nihongo-o benkyo-shimasu
(I'm still learning Japanese)
I've translated my hammies' names into that mysterious Eastern tongue; they come out as
イーチーさん
Iichii-san (Itchy)
バスフルさん
Basufuru-san (Bashful)
and
スヘリクルさん
Suherikuru-san (Spherical)
and their names come out of the translator as
かゆみを伴う
(Itchy)
恥ずかしがり屋
(Bashful)
球状
(Spherical)!
I have to say those "translations" seem suspiciously long-winded to me. Most English words can be expressed in two or three
kanji
at most (the Chinese-Japanese characters).
I wish I'd remembered to bring my dictionaries with me. Those translators can be fatal and I hesitate to think what I've actually written in
The Language of the Rising Sun
...
Here's another tune that goes round and round my head. Here, in the original clip from Breakfast at Tiffany's, Audrey Hepburn sings Moon River:~
PS the title Frank was a pun I forgot to elucidate on the former British National Drugs Helpline "
Talk to Frank
" ~ clickonit to see...