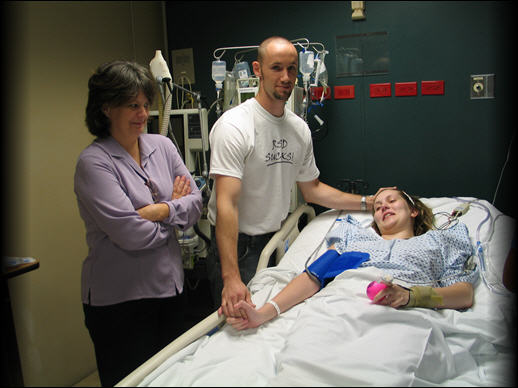 MY V. GOOD FRIEND MOTHER HUBBS has just returned from a trip Down Under
a couple of days ago. All went wrong in the last week. Weather was stifling in Melbourne anyhow but she got extremely hot and sweaty. Then terrible bellyache broke in... turned out it was pancreatitis which is really nasty and an inflamed gall bladder. If she'd not got to hospital in a 150-mile ambulance-dash (they were near Melbourne; not in it!) the Aussie doctors say her pancreas would have ruptured and she could have died. MH is not one to make a fuss about health issues (or pain; unless she's in agony). When she did say she was ill in the night her partner just wanted to roll over and leave it till morning. But she insisted and we're all glad she did. Now she's in hospital over here and awaiting an operation.
We all hope she will be all right...

And what a horrible end to a holiday, but! (As they might say down in Victoria...)
(That is not her in the picture: I'm reliant on stock images...!)
I told her about my moving and my Mum and Ikea and she said I'm glowing... (cool!!)
My only problem in the new place is the continuing invasion of cockroaches. My Mum says they are a metropolis-wide problem in London. Out of town, where she is, infestations are barely heard of. But here, nearly
all
professional kitchens have chronic low-level infestation. And rented accommodation is rife with it.
Having already used an entire can of Raid Crawling Insect Spray (33% Extra Free: 0.2% pyrethrum; 0.2% permethrin) it sends the poor things into jigs and jitters and unless you get them full-on drowned in spray death takes over an hour to "embrace" them... I used the entire thing in a week. And that was being sparing. So today for a bargainacious £1.29 I got a 400g 0.5% permethrin powder to dust right along all skirting and cupboard tops/etc: already half done with half my place and a new red Raid spray, writing in French and Arabic. I checked the active chemicals and they were different and at far lower concentrations. So I was just about to put it back on the shelf in despair, thinking "this is health and safety gone mad: now the product's even weaker" when I realized it was the West African version where they have mega-bugs. And sure enough I got it home and
it knocks 'em dead within 10 seconds
. Amazing!
*
The late Pandable's looky-likey's Pet of the Day in The London Paper...
Have you got Sky TV? If so watch
Ben: Diary of a Heroin Addict
tonight at 10pm. It gets a really good write up in the London paper (have a clickonit and read...)