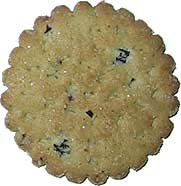 NOT BECAUSE I'M "NUTTY AS A FRUITCAKE" but because
fruit shortcake
are my favourite non-"cream" biscuits (I have such babylike taste~ has to be sweet, preferably chocolate, etc...) but these are a grown-up delicacy that go really well with hot, sweet tea. Hot, sweet tea is just about all I've been up to lately because I'm
so so ill!

Hmmm...
No honestly it's just a "community virus" with exhaustion and depression sequelæ, as over-Latinated physicians like to put. So I believe. And
dit-de-dit
and
dar-de-dar
... And so an obsession with Great British Biscuits results.
I know this talk probably annoys you people, but today I am minded yet again to kick off heroin, like an ill-fitting worn-out jackboot into the trailing dust where it belongs. Not to go "cold turkey" mind (I add for those of you not familiar with my meandering, winding go-nowhere life) but merely to bump properly on to the methadone I've been on for years ~ only using still on top. Nowhere near as much as I might use without it, I should add. But still using far too much. Any using at all is too much when heroin is the drug. I am fulsomely
bored
of it.
Only this afternoon, as I wandered down the high road with my new biscuits, I got to reminiscing about crack and the great whooshing physical rush of the stuff, and the tidal-wave of a high you surf after your brain's recovered from the druggie equivalent of being shut in a microwave on full power for a minute or two. (This being the effect of a big pipe, at least. In the beginning when I used to smoke not realizing most people
broke up the rocks
into more manageable portions, the sheer intense force of that cocaine rushing my brain all at once used to sweep me utterly away. So as my ears stopped whooshing, my dazzled eyes, no longer snowblind told me I was in a calm, bright place... a place I've been to a lot on drugs. It's like floating in the full power of the sun, serene and not burning... Then I'd come shooting back from this place-non-place back to the "reality" of being 1000ft high and
WHHHOOOAAH!!!
It's those effects, and the very suddenness of them from unwrapping the crack, to shoving it on the pipe, to slowly burning and breathing steadily in... within half a minute at most I was totally out of it in la-la-land.
So why don't I crave that immense high? Or even miss it? Partially because it's absolutely incompatible with anything resembling an ordinary life.
And yet heroin with its effects so subtle you could easily miss them and feel nothing other than dull and tired. THIS becomes the object of my greatest adoration. Why?
Perhaps there are no answers and I'm not up for wasting the energy to find them. I just want out of this life. At long long last.
Of course this means I will have used within two days (if past form is anything to go by). But I can at least make this affirmation. And at least
try
...
As NA say, you can only do one day at a time...