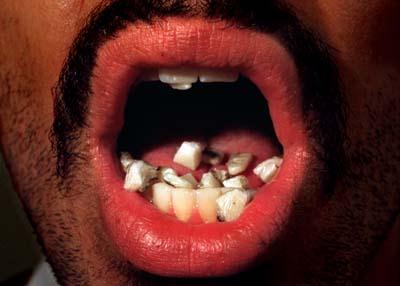 MISERY MISERY MISERY. Yes yes. I'm depressed out of my mind.
Craving crack out of my mind. And no I didn't do the obvious to trigger said craving (which is weird, considering I've not had a single pipe/hit or anything else containing any sort of coke this YEAR)... But all last night, after a dealer gave me a free hit of heroin and has been pressing on me the fact (but not a free bag) of crack cocaine. I could go on and on about this but really don't have the energy to repeat my own boringly circuitous personal mental ramblings...
I long to be straight yet I cannot imagine a life without drugs. Or to put it another way, yes I can imagine that life, but I cannot imagine being happy. Heroin is the only thing that has made life bearable. It gives life value. And it's been like this for years.
I know many of you are sitting there wanting to headbutt the computer with rage saying CAN'T YOU SEE: IT'S HEROIN THAT BROUGHT YOU THIS MISERY AND HEROIN KEEPS YOU HERE.
Yes I have some understanding of this; but I know I don't see it the way you do. I can't do. I know I can't. I'm like a horse in blinkers ~ knowing it is blinkered yet comfortable to stay that way.
To put it more directly: I am just a cowardly junkie without the courage to get clean.
From time to time I get flashes of what it must feel like to be clean. That is to feel things, to smell things. To live in a world of vivid associations and full colour.
But here, behind my bulletproof-glassed existence, nothing's left to feel. Just the sense of so much lost that I will never grasp back. Not just because I'm
too scared
(and I am) but because the experience of recapturing lost territory just feels so overwhelmingly meaningless, bleak and deathly-tiring,
it hardly ever feels worthwhile...VIDEO OF THE DAY: THIS IS CLASSIC.
I only heard about it from today's Sun newspaper report...
The actual fish-catching (a dolphin-sized fish bigger than him!) happens around 1 min 30 into this clip ...



MARLIN IMPALES WOMAN'S BREAST IMPLANT!!

Utterly bizarre and yet seemingly true...
6 Degrees Of Association
Still haven't found anyone I know though I only did about 3 or 4 hops today.
Now I find myself in "organizing your life" and "decluttering" blogland
e.g.
http://overcomingbusy.com
and
http://www.organizingyourway.net
and
http://lifestylesoftheorganized.com ~ Lifestyles of the Organized
Creative solutions to help you organize your space, time, and money in today's hectic world