These are some pets I'd most like to have... and actually have had.

FURRY FRIDAY ON SATURDAY



Akitas are one of the oldest pure-breeds of dog in the world. The American Akita was taken back from Japan by American troops after World War II. It is bigger and furrier than its Japanese counterpart. Whenever I see one down the local park, I want to kidnap it. One came up and stared me right in the eyes. I was down on the grass, so we were eye to eye. She just stared into me. Very intense. Akitas are loyal and dignified and very Japanese. Similar in character to Alsatians or Rottweilers. They are used in Japan as police dogs. I have never heard one bark.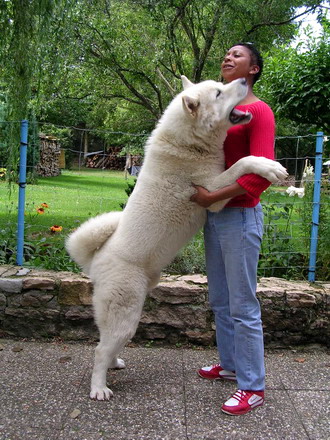 An idea of their size!



The puppies are well known for being savage and wild. This is pretty obvious when you take a look at one:



My favourite little dogs are Norwich terriers. If I got a small dog I wouldn't care too much about breed. The type I'm on about tends to show up in Rescue Home catalogues named "Scruffy". If you've seen "Scruffy", you know the dog I want. Every animal shelter has a Scruffy.



Chinchillas look like rabbits from Mars. They need a big cage, a huge wheel and a "marble", that is, a stone slab you can stick in the freezer for them to lie on in summer. Chinchillas come from the high Andes and do not enjoy temperatures much above 75F, 25C.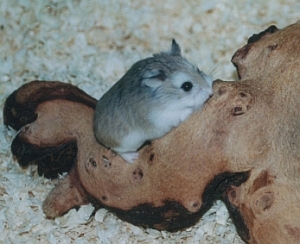 The best pets I ever had were roborovski hamsters. These come from Mongolia. They're a totally different breed to ordinary hamsters (2in/5cm fully grown, pingpong ball-sized when curled up). They are the smallest and fastest hammies in the world.



Unlike ordinary hamsters, which fight when kept together, robos are highly social. They sleep in a heap:



They do everything together. But they're easily startled, don't tame at all easily and don't like being handled. They ping off on the floor at the first opportunity, have taken me 2-4 days to recapture. Imagine a wild house mouse on speed and you're still not close! Aren't they cute ...

WISHING Y'ALL A CHARMING WEEKEND. IF IT CAN'T BE CHARMING, THEN MAY IT BE TOLERABLE.