I CAME HOME EXHAUSTED the other day. Late.
I was meant to be doing three things at once and hadn't time for any of them. When I encountered a black man standing at our gate. It looked like the man downstairs who has only ever spoken to me to demand a cigarette, but I wasn't sure. Right height and all but this person was staring at me constantly, so I wasn't sure whether it was just someone who looked like him. My eyesight, bear in mind, is terrible, so I usually recognize people only by the characteristics of their blur. As I was about to walk past I mumbled "Alright mate," under my breath. And barely a second later this man, who I could now see WAS the cigarette-demander blurted belligerently, "A hello would have been nice!"
"I just DID say it!" I "retorted" (as writers of novels like to say).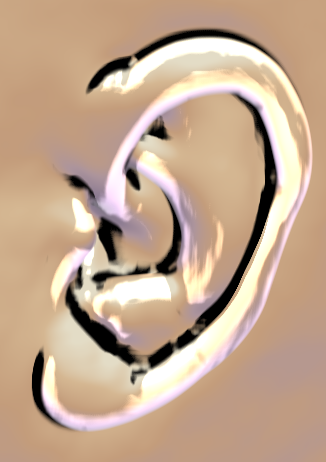 "I do have ears!" he shot back.
"I just said 'Alright?' ~
right to your face!
"
"Well I didn't hear anything," he said ~ and I thought
how rude!
"Well I'm sorry maybe I mumbled it ~ no offence."
But he still wouldn't believe me and an altercation started in which he said "don't shout" (speaking too loud for you now, am I?" I thought, but kept my mouth shut. And this ignoramous, determined to take offence ranted on about how I obviously hadn't said anything. (Of course HE hadn't said hello either!)
"I thought you would have seen my LIPS MOVE," I said, circling them with a finger for added effect, but he kept on blathering and I went inside and let the door shut on his protestations. All I could think was
WHO DOES THIS MAN THINK HE IS?
I mean what
is
this man's problem? Up until then I bore him no ill will at all. And yet he appears determined to find it in others (at least in me).
Seek and ye shall find!
says the proverb. Now when I go outside I quickly dash past his door (because he lives downstairs) hoping not to see him. And thankfully we have not met since that event about three days ago. I am not going to mention it if he doesn't. But I keep wondering:
What did I do wrong?