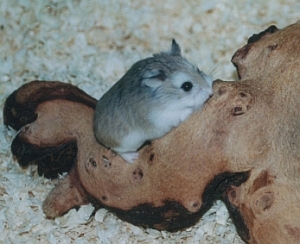 HERE is yesterday's escaped roborovski story translated into English.
I am going to open a German blog very soon I promise y'all.
When I had roborovski pygmy hamsters, I lost them a couple of times... akh! Two entire days and not a sign ...
Then, after midnight I saw something tiny, like a furry pingpong ball with eyes, that shot across the bedroom like lightning and vanished behind my bed ~ the swine!
Roborovski hamsters are the smallest and fastest hamsters in the world. No wonder I couldn't catch her.
Finally I threw a bedsheet over her. She was extremely unhappy, and went back to bed in the lightbulb box with a thunderous face :-)
The main illustration isn't a roborovski at all, but a cream coloured Syrian hamster, which is about five times bigger... but I just found the picture entertaining...