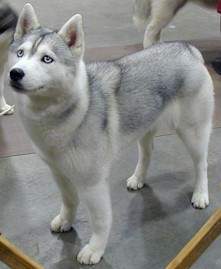 IF Y'ALL were wondering what I was blithering about
earlier, it was mostly about my friend Belinda's poorly doggie Albert, who had an operation to remove a lump on his side last week and has been confined to his basket in sheer misery ever since.
Albert is nearly 15 years old, with fur the colour of a frosty morn. He looks like a little silver donkey with sad, sad eyes. He is so old he is almost deaf and never knows I'm there unles I put my hand down.
Yesterday he was so sick he was bundled up in a doggiecoat looking forlorn and cold ~ despite temperatures of 28C. Belinda said he's going to have to go under the knife again.
Today he looks much better. He won't be having an operation. Belinda says he looks so weary because he is stoned on all the painkillers and pills the vets gave him. Poor swine. I think he is going to be OK.
Flapper the wood pigeon is having a torrid affair! Yes! Off he flapped to the luxury high-gain aerial on the next road where he is to be seen cooing with a lady woodpigeon.
In the German version, by the way, I made a terrible mistake and said Flapper is perched up on a TV antenna with a deaf lady!
In mitigation may I point out that the German word for pigeon or dove is
die Taube
, while deaf is
taub
, so when I talk of a
Taube-Frau
, hoping this means a lady pigeon, I am evoking in the minds of anyone from Bremen to Berlin to Berne the image of a pigeon savagely kidnapping a disabled lady who is hanging off this pylon in sheer terror. Probably as Flapper viciously pecks at her fingertips.
The only other news is that temperatures have hit 28C and we are threatened with a weekend heatwave of 32 ~ that's 90F. The Greek lady at the druggieservice, who is from Athens. (When there is a severe heatwave in Europe it's nearly always worst in Athens. Temperatures can pass 50C/120F). She pointed out how much more oppressive is the sweltering British summer. It's nasty nasty nasty. I'm sweating like a swine.
Now here's a tune for y'all to try squawking out in the shower. I had a go and I sounded like a wicked witch having a haemorrhoidectomy without anaesthesia:
MOONFALL from The Mystery of Edwin Drood
Here's the Streisand version: