TODAY IS HM THE QUEEN's Official Birthday...
... note the term "
official
"; Elizabeth II actually has two birthdays. Her actual date of birth was 21 April 1926, making her 84.
Her Official Birthday has no set date, but is ordinarily celebrated "on the first, second or third Saturday in June, though it is rarely the third," say the experts at
Wikipedia
.
As well as hosts of cards, bouquets (why would you send the Queen flowers, knowing they will more likely than not spend half an hour at the Palace before being sent on to a children's hospital?) and prezzies great and small from politicians, dignitaries, presidents and Kings, the today's highlight is the ceremony of
Trooping the Colour
; all soldiers in microphone-hats (bearskins) and Her Majesty riding side-saddle on her trusty steed
Burmese
. A stately display of pomp and splendour straight from the lid of a souvenir toffee-tin!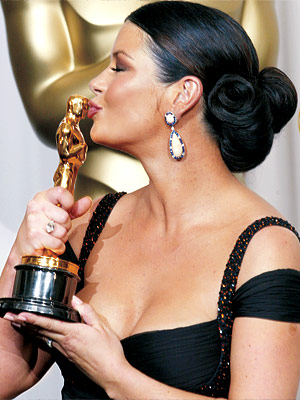 Highlights
of the Queen's
Birthday Honours
include: actress Catherine Zeta Jones becomes a CBE (
Commander of the Most Excellent Order of the British British Empire
), she says it's "humbling and overwhelming" to receive such a distinction; Oscar-nominated actress
Sophie Okonedo
~ who I don't like because she skulked into the shop I begged outside on a regular basis and never spared me so much as a glance, let alone a penny ~ gets a
CBE
too; a railway station announcer ~
MBE
(Member of the Most Excellent Order of the British Empire) and a farmer who was awarded an
MBE for "services to ploughing
" ..(!)

WORLD CUP:

England v USA at Rustenberg. 7:30pm kickoff (London time) tonight.
(Not that, though I've yet to watch a game this year, I'm secretly following this in some underhand, mentally interesting unconscious-eyes-closed-type way ...)
HAPPY BIRTHDAY, MA'AM!
84 GLORIOUS YEARS:

Commentary by the Queen herself ...
If you've ten minutes spare, this will provide educational, entertaining and highly informative coffee-time viewing...
Excerpts are from my Elizabeth R documentary. You can watch this in its entirety (about 2 hours)
on my

Fabulous Celebrity Blog
!
TROOPING THE COLOUR:


BEN STILLER ~ ROBERT DENIRO ~ BARBRA STREISAND ALERT!
MEET THE F*CKERS IS ON BBC1 AT 21:30 HRS!
Having seen
Meet the Parents
, I wanted to see this sequel when it came out. But of course my local cinemas ran it for all of three days so I missed it. And every subsequent chance of seeing it. Till now...
To those of you not resident in the UK. Sorry.
Why not move here? Half of Mogadishu already has ...(!)

NOTE TO SELF:
GERMAN GRAMMAR LESSONS: BEGINNERS'/ADVANCED