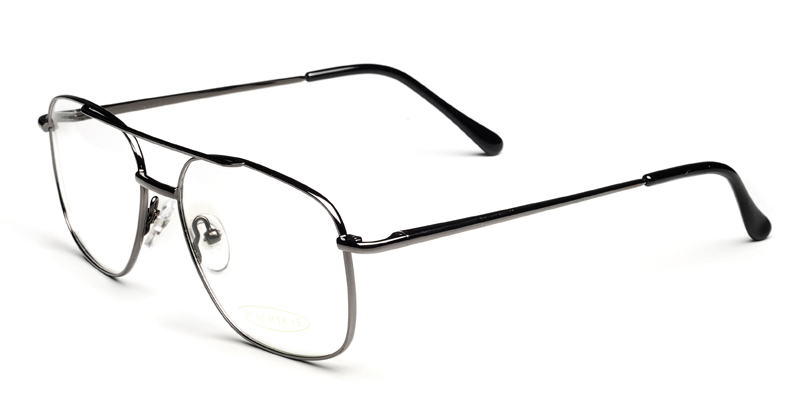 HEY! I'VE FOUND A PICTURE OF MY NEW GLASSES. These are exactly the pair that really suits me.
Won't they look amazing in light brown tint??! And can't you see now why I'm so irritated at having to wait TWO AND A HALF WEEKS for this sheer trendiness to be perched on the bridge of my nose in a with snazzy amber lenses? I want to know what y'all think of my excellent taste. Frank opinions only, please!
Nah! Just kidding. Those are the horror glasses I had when I was at school. Note I say "had" not "wore". I hated them so much I'd glance at something important then, in the blink of a myopic eye they'd been snatched away to spare my dignity. Everyone wore glasses like this in the 80s. Everyone who excelled in science subjects. Or had poor social skills. Or a face full of boils. And they made most of us look like multiple child killers who spoke English as a second language. Actually what am I saying. No nation bar Britain would ever countenance such execrable eyewear.
My current specs are the only pair I've ever had that I actually like wearing. Which either says a lot about glasses or it says a lot about Specsavers' range. I've only ever shopped at Specsavers. They do live up to their name. But their staff are offhand and they take AGES to process a simple order for photochromic lenses.
They look like this:
I used to have such a thing about eyewear when I was younger (contact lenses not glasses) that my parents got me a job interview at the opticians (gotta work with something you love). Never got the job. That was the old me: so tremulous, I was bleating like a lamb.
I remember when my housemates went on holiday to Mororcco. All I could think on viewing their photos was how their fly-eye shades were so two years ago. This was 1999 so you'll all know what I'm saying.
Now I've got to go. I've a haircut to think about. My friend Pinky says I should go for shaved sides and a bit longer at the top. What do y'all think? I'm neutral. I hate haircuts, just as I hate choosing spectacle frames. Any enforced gawping at my ugly mug in the mirror does my brains in.
If I do get a decent haircut I'm dying my hair too. I used to dye my hair all the time using that Sun-in bleach. I only stopped doing it when my friend Lona took me to a student-run trainee salon where a scarlet-faced, trembling 16 year old scurried back to inform me quavery-voiced, that my strand test not only MELTED under their dye, but started curling out whisps of SMOKE. The schoolmarmish supervisor strode up and demanded to know what on earth I had been putting on my hair. When I said Sun-in with a hairdryer she rolled her eyes and ordered me never to use that product again.
My hair is naturally the colour of dust from a burst vacuum cleaner bag. So what colour should I turn it? Reason I always used peroxide was that it rapidly goes the colour of spun gold with no need for any additional chemicals or colouring. And I've never used those packets of dye meant for middle aged women covering their greys. What do I do? Could my hair turn to jelly and melt? Would I be able to light cigarettes off it? I'd need a ciggie if it melted.
Well that's about all appearance-wise. I'm trying to get some self-esteeem back you see. Y'all have to bear in mind that basically the day I went on heroin was the day I gave up ever shopping for anything bar absolute essentials. Since then I literally have not bought ANY clothes, bar socks and undies. The day things really went tits up and I could no longer afford heroin was the day I turned into a street beggar, with the look to match. Teeshirts, tops, jeans etc were all donated, found on the street or fished out of bins. My footwear came from the boxes people leave behind when they buy new trainers. I used to wear army surplus. Now I just look like a street drinker on my worst days, a down-at-heel student on my better ones.
Another thing: I urgently need a dental scale and polish. My teeth are so badly stained from chain-smoking that there's pretty much no point poshing myself up until a hygenist has given me a white smile again. That service used to be free. Now it's £40 ~ NHS or not. My teeth are so rotten I fully suspect most of them to be HOLLOW. The last dentist ~ who did the emergency extraction on that molar that had rotted all the way up the root ~ was compelled to take an x-ray and read out the state of my gnashers to his surly nurse and I'm sure I heard the word "extraction" at least three times. I only had one hit of heroin and one drink before I came into that shithole of a surgery and yet he treated me like scum of the earth. I lied on the "medications taken" question. No way was I telling that bastard I was on 140mg of methadone!
OK so what should I do with this hair of mine? Ideas please. At the moment it looks like a grey mop and I hate it. I hate long hair. It's long because it hasn't been cut. Fashion doesn't come in to it. (When does fashion ever come into long hair for men?) Last time I cut it I did what I'd long fantasized about: grabbed scissors and literlaly hacked away until only a centimetre length remained. I thought it was OK. Partly because I'd recently had a psycho flare-up; mostly because I'd done 2 £20 bags of heroin before the haircut. Over the following weeks I kept finding long bits, ridiculously short bits. I looked like a fledgling bird with schizophrenia.
Branzie, my stepdad did buy me hairclippers but I'm scared of getting that ex convict look. I won't look hard with that kind of cut. I'll look like Sinead O'Connor crossed with a Red Army Faction terrorist.
So come on. Advice. Needed. DESPERATELY.
Should I shave my head grade 5, or what? Should I hand in my glasses and demand an exchange for the stylish pair up top? Should I take a mood stabilizer to stop me very nearly walking out of petshops with exotic singing finches? My life is a mess and I'm on methadone. Please help me!!



★★★★★★★★★★★★


PS don't forget today's other posts:
Furry Friday on Saturday: Shetland Ponies
Betty Ford Dead at 93
Watch the Birdie (about me nearly purchasing a singing finch for £35 + £12 for the cage)