I STERNLY REPRIMANDED SPECSAVERS YESTERDAY for not informing me that their

buy one get one free

offer also applies to prescription sunglasses
. I showed the extra frames I'd chosen, pointing out that black does not suit my colouring and that they'd ONLY been selected with the intention of getting the lenses blacked out at some future time when I could afford it, so would they please give me what I would have ordered at the time, if only they'd been professional enough to explain it was available there and then.
After some flustering a surly assistant appeared, forced a smile and informed me I could have my lenses tinted to any colour that suited me. I said I wanted them as black as they would go. She said "ah, but if you're driving that's dangerous" I said "but I don't drive". She said come back tomorrow at 5 and your lenses will be at least 80% tinted with full UV filters.
So I left Specsavers in a very good mood indeed. For £104 I have a pair of especially funky ordinary glasses, a pair of pretty dark shades plus a pair in photochromic brown. Without the special offers that lot would have cost £268 plus a £20 eye test. And Specsavers are by far the cheapest opticians on the high street. Their Reactions photochromic lenses are a THIRD the price of Vision Express's standard Transitions. Vision Express wanted £100 for a simple UV protection and tint; Specsavers charge £12. Most opticians rip their customers for the maximum they can get so I'm sticking with Specsavers. I'm saving up for a few more pairs of sunglasses already. Never again will I be reduced to one single pair of broken glasses that fit me like a percentage sign. Never again will heroin come before life. I haven't taken heroin in well over a week and never intend to touch it again.
Everyone says my hair looks fantastic. They keep asking who did it. Last night I went to NA with Paddster, who has a 40-year habit. The woman who sat next to me said I was very goodlooking and asked whether I was a hairdresser.
I got my dark glasses at 6pm today. There were problems in the technician's lab upstairs getting them dark enough. When they came down my specs looked like genuine sunglasses. Not those half-arsed vaguely tinted ones some opticians try to pass off as prescription tints.
So I went straight round Paddster's to show them off. He said I'm manic. We had smoked salmon bagels with tzatziki dip and lemony drizzles. Beautiful.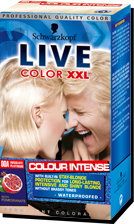 Then we walked up the high road to Morrisons and Paddster's friend told me I looked like a pop star.
I applied the rest of the slap last night, having realized in horror that my hair was slightly darker at the back than the front with multitudinous missed bits. So I'm now baby blond supreme. And I do look fantastic with my new shades on, if I say so myself... I hope it's sunny tomorrow. I'm determined to get FULL MONEY'S WORTH from these wonderful dark lenses!!
PS the name of the dye was Schwarzkopf ultra platinum and I'm exactly the colour of the models on the packet. If not blonder ...