MY LOCAL SHOPS, including the 24-hour convenience stores are all SHUT this evening thanks to widespread rumours of rioting in this area tonight.
I've already heard vulgar voices outside my window and am armed and dangerous. Anyone who dares come in will be getting it bigtime.]
I didn't mean to imply rioting was good in my previous post: I was merely describing the carnival atmosphere down Wood Green High Road yesterday morning. Soon as I got off the bus there were crowds of people gawping at the smashed windows of HMV -- CDs and DVDs everywhere as if a hurricane had hit the shop. T Mobile was completely vandalized. McDonalds strangely missed out -- possibly because nobody wanted to loot a rancid Big Mac. Neither of the big supermarkets got it either. Mostly sportswear stores: JD and Footlocker, electrical shops and places selling DVDs etc. Police were in attendance but not exactly guarding the looted premises and this WAS about looting and not rioting the true riot was in Tottenham. No evidence of petrol bombs to be seen. I could easily have crawled into HMV and just helped myself to Barbra Streisand memorabilia. I was still a bit manic yesterday (that's why I was in such a good mood on top of the carnival atmosphere of the place). I was in a very good mood indeed when my stingy crackhead friend came back and repaid my 25 quid. Reason he hadn't repaid was that he's basically gone and got himself a crack habit. That's what's happened. Even his immaculate wife was piping away and they wouldn't give me a pipe because they've seen me on crack and it's not pretty. I indulged in heroin instead. To be frank I was suspecting my chemist had watered my dose because I felt ill ALL THE TIME. The heroin did at least put me to sleep ALL NIGHT for the first time in days on end. I also fell asleep in my chair, like a normal person. If you can't fall asleep in front of the telly there's pretty much no point going to bed
in my book. Yes I do feel weak and idiotic for taking heroin. I wish they hadn't come round now the longer they stayed the grottier I felt I was so incredibly tired and so thoroughly enjoyed sleeping in this morning it was a real luxury. Also whenever I tried to get up I was too chilly for words. I have some mystery illness, I know I have. What the bloody hell it is I haven't the faintest idea but the symptoms are these: farting, sweating, chills (having to wear a Russian hat in August), physical fatigue and insomnia (3 hours'sleep a night) plus mental feelings similar to being high on coke. What illness is that? I know the mental side is called hypomania but what about the physical symptoms? Also I'm dreaming of Barbra Streisand?... She's singing me the most beautiful lullabyes. My family once told me Leona Lewis had a better voice than Streisand because it sounds normal and not nasal but NOBODY beats Streisand in the singing stakes. Have you ever heard anyone who sounds even remotely like Barbra Streisand? I haven't. Whitney Houston is arguably superior because her voice is stronger and more even. But Whitney has completely destroyed her voice by all accounts -- freebasing cocaine. Silly bitch! BTW I'm talking voice-as-instruent here not choice of songs. If musical repertoire were the criteria for greatest pop star Madonna would beat everybody hands down!
Now I must check my tex mex pizza. I stocked up on cloudy lemonade at 54p for 2 litres and Old Jamaica ginger beer at 1.04 for 2 litres on special offer. Even Morrisons were closing early in terror. So far the unrest has spread to Hackney where there are no decent shops my friend Tommy Tired used to live on Graham Road so what anyone can loot from Hackney apart from dealers'supplies of gear, crack and evil cannabis I've not the faintest idea!
My Dad is telling me now not to move anywhere near the main shops but I think community nuthouses are on twee suburban roads like the one in Posh Park. I so much hope I get the chance to move out there I have just had enough of living as I do. Did you know I once kept my washing up in the shower for 6 months because I couldn't face doing it? The Posh Park nuterhouse has shared kitchen and living room so I can watch telly with schizophrenics instead of watching telly on my own and bouncing my balls forlornly on the ceiling to piss off the 2faced dole scrounger downstairs (claiming benefits yet driving an enormous car and barely ever in residence so my chances of actually disturbing him bouncing a ball at 4 in th emorning are about one percent!)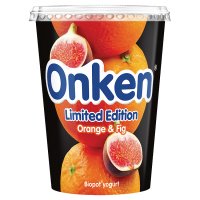 Shit I forgot 3 cheese coleslaw to go with my tex mex pizza. Ho-hum. I did get Onken chocolate flakes in vanilla yogurt with little chocolate strawberry hearts to dunk in it. I don't know what the
health benefits of live yogurt
are meant to be but somedays yogurt is literally the only thing I can stomach...!
O well I have to ride out the night on ginger beer and lemonade. I've given up alcohol! Haven't had a drink since Friday (I think: I'm not doing that one day at a time yet I'm counting the days thing). ALL the shops are now shut. If we do get a riot outside I'll post full details I promise you!
RIOTS SPREAD ACROSS LONDON: LATEST
Starting at 4:20pm, vulgarians kicked off the unrest in Hackney. Further flashpoints went off in Lewisham and Peckham (really scummy inner London suburbs way too vulgar for me to stray near!) Hackney's OK though. Nicer than Tottenham. Wood Green is the nicest place to have riots so far. I used to know someone who lived in Wood Green...
PLACES THAT BELONG TO YOU (VOCAL VERSION)
Love theme from The Prince of Tides - a brilliant film about a bipolar poet hospitalized after a serious suicide attempt. Nick Nolte plays the irritable city-hating brother, drawn to New York purely for his sister (the poet's) sake. Streisand is the psychiatrist. What starts as clinical unravelling of his sister's past turns into a love story...
PS MY CHINESE IS COMING ALONG FANTASTICALLY I GOT FULL MARKS IN THE END-OF-UNIT TEST. FAIR DOS IT WAS UNIT 1 BUT YOU GOTTA START SOMEWHERE!!
0016hrs RIOT UPDATE: EALING BROADWAY (W LONDON) HAS JUST ERUPTED; VIOLENCE IN NOTTING HILL (W CENTRAL); CROYDON (SOUTH) BURNING AND A NONFATAL SHOOTING. E HAM (EAST) ON FIRE. FIRES AND GLASS ALL OVER HACKNEY'S STREETS (NORTH-EAST). AND THE VIOLENCE HAS SPREAD OUT OF LONDON TO BIRMINGHAM, ENGLAND'S FAMOUSLY VULGAR SECOND CITY... (ALL THE INNER CITY OPPRESSIVE ATMOSPHERE OF THE WORST OF LONDON BUT NO HARRODS, NO BUCKINGHAM PALACE, NO TUBE. ukh!)
LONDON IS THE ONLY CITY I'D LIVE IN APART FROM NEW YORK, TOKYO, PARIS, BERLIN ETC...
DAILY TELEGRAPH 0020HRS Violence spreads across London.

If you want to hear the latest, the best link is, BBC RADIO LONDON (phone-in station)...
SAM, YOU MADE THE PANTS TOO LONG
a highly intellectual song with emotionally complex lyrics. Not.