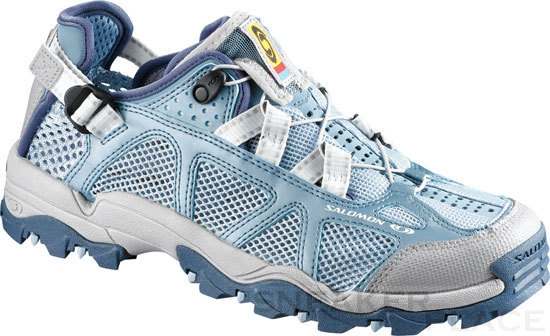 WILL these posts
starting with almost exactly the same sentence never cease?? Yesterday I found new trainers (sneakers if you prefer) by a bin where I used to meet my old dealer. They weren't as nice as the one illustrated (I would
luuurve
a pair of runningshoes like that).
I'm not ordinarily one to go through trash or other people's skips ~ unless I see something I particularly like. Last week, by somebody's gate along my road, I found an enormous bag full of crockery, saucepans, ashtrays, mugs and plates. What I particularly liked was one plate made of glass (I love transparent things) and another two and a mug made out of that enamelled metal (in white with blue highlighting) ~ the type you'd take on a 1950s caravanning holiday...
So America has analogue television no more!
Across the entire nation, so I hear, old-stylee signals have switched off, leaving apparently two million or more Americans who can't afford digiboxes in the televisual dark.
Britain is in the midst of a characteristically longwinded tv-switchover. Digital terrestrial is broadcast just about everywhere, so in London you get about 40 channels through an ordinary aerial. At least two thirds of households are said to get tv in this manner already. The Rupert Murdoch controlled Sky satellite system has more than 10,000,000 subscribers (just over one household in three) offering 200 channels+; cable (now run nationwide by Richard Branson's Virgin group), which ironically has more "bandwidth" actually offers fewer channels ~ so no wonder they get less than half as many subscribers as Sky. Cable's biggest advantage is that finally, at long, long last they offer video-on-demand and the TV broadcasters' catch-up services direct to the TV which otherwise you'd have to watch online. After ridiculous delay, the BBC finally unveiled a satellite service ~ Freesat HD ~ to rival Murdoch's Sky. This one beams 150 channels subscription-free ~ again outdoing Virgin cable in quantity at least.
Once analogue transmissions are closed down we should have room for 200 channels
free
via the rooftop aerial. But knowing how crap modern Britain is, I'm sure this won't happen...
I would love to get one of these multichannel services but Sky, the best one, demands access to a telephone landline, which costs £10 a month on top of the £20 a month subscription fee for all the channels except movies and sports.
For them you pay about £20
more
~ not cheap. I'm afraid if I did have all this I'd do nothing but watch tv. I was also interested in going to a specialist satellite shop and getting a dish for German and French TV. Lots of immigrants get Turkish, Arabic, Polish etc telly on giant dishes. As far as I know you can get this set up for not much more than £100 ~ though knowing my luck just as it was done my evil landlord would want to move me on
yet again ..!
Anyway I'll get German telly when I move to Berlin/Vienna ...
Pickles galore - Whiskey Galore
~ this is a famous classic Britflick about a ship running aground off the Scottish islands ~ a massive cargo of whiskey washes up on the beach ...
Bananarama: it ain't what you do (it's the way that you do it)...
A classic tune used in adverts all the time...