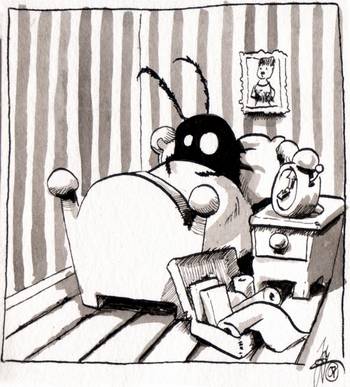 I APPEAR to have found a university course where you can study German as a foreign language in Germany ~ at the University of Heidelberg (in cuckoo-clock-land!) ~ which, founded in 1386, is the oldest university in Germany.
... but I've barely had time to peruse the course-description. I don't find reading such information online much fun and will have to get a proper prospectus if the course sounds any good. See: I said I was looking at
all
the options ~
if
I decided the uni route was right for me ...
... Apart from that I'm hacking through Kafka's
Verwandlung
~ we
did
do it at school (and I barely understood a word) but somehow my comprehension has improved so well of late that I breezed through Kafka's surrealist prose ~ about a man who wakes up in bed one morning transformed into a monstrous beetle! ~ with less words-looked-up-per-page than Christiane F's memoir of teen drug-addiction!
So there we go: must fly. About to be timed out yet again ...
FRANZ KAFKA ~ "THE METAMORPHOSIS" ~ SHORT FILM
YOU DON'T NEED GERMAN TO GET THIS ...