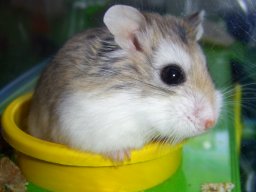 SPHERICAL ROBOROVSKI IS DEAD!
I noticed over the last few days no midnight squeakings from the wheel. A hamster going off its wheel is like an Irish person going off drink ~ it's totally out of character.
Shortly after Bashful's death, she slimmed down and became little and runtlike just like her and Itchy. She stopped being so active and hobbled around. Also her senses faded, so that I could put in my hand and she'd jump out of her skin when finally she realized it was there.
That is quite a weird thing in a rodent. Rodents after all rely on their senses to survive the great outside ...
I know when hamsters are on the way out, so it wasn't a great surprise...
But this is the end of an era. I am now
completely hamsterless
.
REST IN PEACE, SPHERICAL ...THIS was Itchy, Bashful and Spherical when they were alive:
If you want to comment but can't see the box, move cursor to envelope signal and commentary option should appear ...