... A FURRY-FRIDAYS-ON-SATURDAYS ENTERTAINMENT POST ...

IF I DO get hamsters again, I might go for Winter White Dwarf Russian hamsters.




They are normally sold as just "Russian hamsters" but there are two species. In Europe winter whites (phodopus sungorus) are the most popular. They are very good natured with people and each other, hardly ever bite. They are about twice as big as roborovskis (phodopus roborovskii) and far less flighty by nature. Winter whites DO make very good pets for children.




They are named "winter white" because (provided you don't leave the lights on all the time), the reduced daylight hours in winter make them lose the characteristic grey colouring and, depending on the individual, go anything from white-grey with spots to almost pure white.




In America, "Russian hamsters" are more likely to be Campbells dwarf hamsters (phodopus campbelli) , which come from the same Siberian regions. In natural coloration they look very much the same, except the characteristic dorsal stripe is less marked and there are no black stripes round the flanks.




These are said to be less good-natured than winter whites. I used to have one winter white and one Campbells who lived together and found this to be true because the winter white was perfectly placid, whereas the Campbells absolutely hated being picked up! But unlike winter whites, these can be bred into a vast array of colours.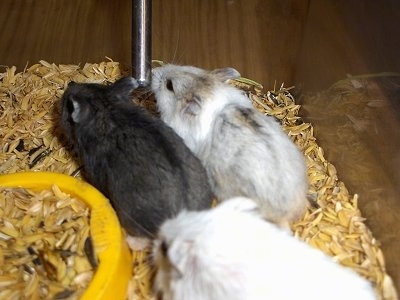 Coming from the Siberian wastes as they do, Russian hamsters of both types have the thickest and softest fur of any hamster species. They even have fur on the soles of their feet!

Of course, this being Furry Friday on Saturday I have to add that baby Russian hammies are very tiny ...


... and cute!