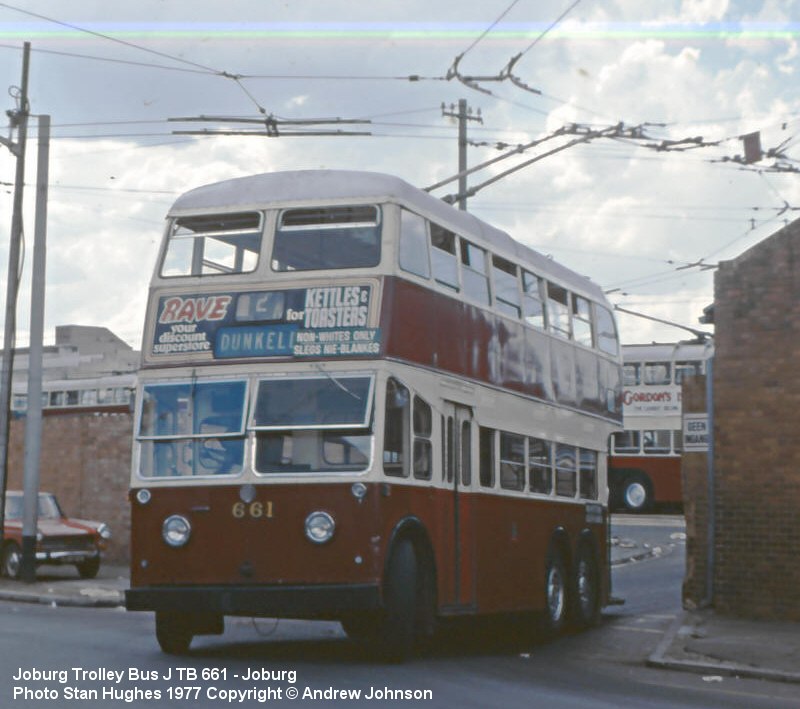 IT'S BEEN A VERY COLD DAY! Here in damp old London
(London is meant to be a damp city: in the 1950s fog used to combine with coal smoke from a million plus chimneys to swirl into those famous "pea soupers" a kind of 1950s supersmog. Some evenings it was so bad they had to have the sighted led out of tube stations toward the trolleybus (tram) stops ~ by the blind! Maybe the fog was another reason for the enduring popularity of the trolleybus (which is a doubledecker tram*: ie like a double decker bus but powered from overhead electricity. For some reason they never tagged two or three together; which I always thought the entire point of trams: that they're longer and can go on-street then flume down underground suddenly to reappear in celestial rosegardens ... (sorry imagination took control of me for a sec). Yeah anyway does anyone know why they got rid of the trolleybus?
*no it was not! I just put up the trolleybus picture above (from South Africa) you'll see that one (and every trolleybus I googled) ran on TYRES not on street-embedded rails... why on earth would you want that? All the disadvantages of being tied to electric power and yet the possibility of taking a wrong turn and wrenching yourself free of the electricity!
I do apologize about my earlier post on books. The post is an extension of a telephone conversation. Or to put it another way: I wanted to put the idea of e-publishing to YOU the e-reader. And it all got a bit vehement. My vehemence is now dispersed.
Anyway now it's up to me to FINISH the bloody thing. E-book, selfpublished book or massmarketed book. Aaargh!!
I spent all day asleep. I don't know what got me. Something to do with not having slept more than a couple of hours a night for several days in a row. And suddenly I'm slaughtered!
Yeargkkh! I just realized Easter CONTINUES tomorrow into Monday. Why an Easter Monday? What's that all to do with? Eggs? Did you know in the
Chandogya Upanishad
the entire world is born from an egg? See: these myths were interwoven at the misty dawn of time...
Sorry not Chandogya:
Katharudra Upanishad
see verse 20 all gods and demons in the cosmic egg...
Music:
Taffy: I Love My Radio