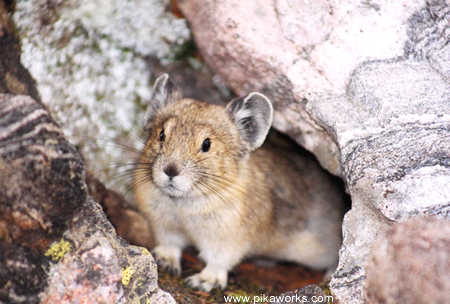 HAVE A CHARMING, FURRY SUNDAY EVERYONE.... that's fur as in little furry animals not as in rotten old mould... the picture to the left shows a pet pika
(sitting on the same green spiral "staircase" of the same Habitrail cage my Chinese hammy Pingpong has... it will quickly outgrow that!)... And to the right a wild pika having a squeak outside its rocky abode...
... and top: a tiny roborovski so you can see why I coo into Itchy's ear "you look just like a pika!" among the reams of other rubbish I spout at her. (Well she does look a bit like one!)
Today I caught her trotting on the wheel and picked it up. She clambered about my hand trying not to look disappointed, upset and impatient to just scuttle off and be left alone. I shoved her into the seedery (the "teabox") and within a second her furry face appeared next to the Weetabix. Out she popped and I shoved her back in. There she was again looking all furry by the breakfast cereals. Then Bashful appeared looking all tubby and harvesty (they actually
smell
of harvest-time too)... she chased my fingers about, seizing her moment to
bite
when Itchy went pinging across the newspaper so Bashful panicked too and their tubby bums were struggling against the corner entrance to their "secret burrow"...
where they ping away in peace...
OK I must admit I posted the above paragraph yesterday, before I spent nearly all day wallowing in bed in a pit of despondency. Then when I did emerge outside the thought hit me powerfully:
I've been here too long. Time to move on...
(Give it another five years and perhaps I'll get round to it...)
I wished my Mum happy Mother's Day... she said she has an allergy and is
covered in blisters
... who does THAT sound like..?
My time now is up; so:~

See yous all tomorrow...

***

PS a personal message/plea to MALLORY
Many thanks for your comment.
I'm pretty sure I managed to reply ONCE at yours but now I'm having great troubles leaving any message at yours...
So I'm having to say HI here... please tell how/where or leave the link for how I DO communicate with you chez toi... your blog is quite something!

Blog pixx of the day:
Guildwood Gardens
Fantastic Alpine-Fresh Airiness...