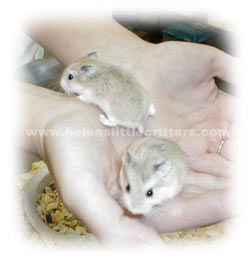 I THINK BASHFUL ROBOROVSKI IS DYING. She is certainly ill.
Seems to have lost her sense of balance and
spins round and round
. This is a genetic fault and nothing can be done about it. There she was, huddled inside a cardboard box last night all sicksome. I fed her sweetcorn and Bill Oddie's Breakfast Birdseed. Her backbone is sticking out of her fur like a metal arch. Her eyes have been getting progressively blearier for days and days. Spherical on the other hand looks bright as anything.
Imagine my surprise
this morning to see her drinking of her own accord of the waterbottle. Maybe miracles do happen, even for MC Trotter Donkey..? It was weird to see her behaving normally again. Hopefully this means an end to it. I think the same illness killed Itchy ...
Spherical glares at me with suspicion and retreats into a Channel Tunnel size cardboard tube I gave them. There her Carrot Nose sticks out quivering with contention. She seems to consider me some kind of evil sorcerer. Maybe it's because my eyes lit up luminous green when I'm angry ..? Who Nose..??!?
Maple Syrup, my Drug Worker, phoned me today
asking what's wrong. She actually asked how I was!! I do think Maple Syrup is very clever by taking a different tack from all my other workers. Some of it has worked.
In psychology
one thing I do recall: you had what they named Intrinsic and Extrinsic Motivation. Extrinsic motivation is doing something because somebody is manipulating you or threatening you. Intrinsic motivation does things because it WANTS to. I only work well intrinsically. Maybe what got missed yesterday is that I DO want to do these groups; but do NOT want to do them because I'm threatened or cajoled or bullied. I try not to be the type of person who cuts off his nose to spite his face, but dealing with Maple Syrup this becomes an ever-so-temptational course of action...
I told Maple Syrup I'm all up for these alternative therapies but they're being scheduled too fast. One thing at a time.
Finally she seems to have listened ...