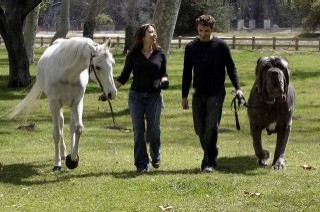 (
THOSE SHOWN HERE ARE CRITTERS COMMONLY KEPT AS PETS)... bottom left
we have an
African Pygmy Mouse
which is even smaller than a harvest mouse, being about 3cm long... bottom right a
Roborovski Hamster
of course... about 6cm long but much rounder in the body; these are the smallest hamsters in the world (and the least tame!) TOP: is
Hercules
, the
world's largest dog
... in comparison (as you can see ~ duh!) with a
horse!
... he is an
English Mastiff
, just like my legendary (and fictional)
Gwendolina
... the slavering hellhound who chews dolls and pram wheels and bays at the kitchen light...
Have an entertaining day folks!!STOP PRESS!
I've just heard that Hercules dog is CGI! Looking closely he does have a slightly shiny outline so... here's a new photo (white dog, top) of another "world's largest dog"... Moose... who weighs 286lbs...
***
PS: If you want to see some real Russian "роборовски"s, clickonthatRussianword...