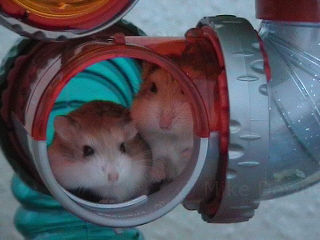 THE TAPIR PICTURE IS SPECIALLY FOR SOMEONE WHO IS IN PAIN AND DEPRESSED.

THE GREMLINS HAD AN EXCITING TIME LAST NIGHT, because I cleaned them out with them still in the tank
, pinging this a-way and thatta way. As handful after handful of weewee-ponging woodchips were excavated, secret stashes of seeds suddenly came to light, revealing all manner of exciting scents to the tiny tubbies who rushed up to pack their pouches with this forgotten treasure. The tearaways were so excited - roaring up and down; hiding in tubes. Poking pink noses out. Too excited to wait - scampering back. Packing pouches yet again. Forgetting to empty them out and wondering about looking like oversized furry chicken nuggets. Once I'd thrown out that soiled lot of woodchips that was that for "professional" litter so they're reduced to living on newspaper for the time being. A large picture of Amy Winehouse lies under their wheel. I've always thought Winehouse's old hair looked like a rats' nest. & now it's closer than ever to actually being one.
As for me - I found blackbean sauce reduced to clear 37p a 440ml jar this afternoon. I was so excited I went into near oriental meltdown. OK: slight exaggeration but I did "snap" up five jars. They didn't have boil in bag rice in Iceland so now I've got to relearn to cook it properly not in a bag... Which I don't trust myself to remember ... Surely it's dead simple? Two cups water to one cup rice. Cover. Bring to boil. Turn down. Cook for 10-12 minutes. When it's done all the water should have cooked into the rice .. (?? ~ yeah?) Well if it's a disaster you'll surely know all about it by tomorrow!
I hope the pictures entertain: second one down (with the tubes) ~ the robo on the right looks especially gremlinlike there I'd say... it's really hard to get pictures that capture their precise expressions....
Take care everyone

ta ta!