I SCORED HEROIN YET AGAIN THIS EVENING. I wasn't intending to do it. But I did.
I used. I bumped into a posh boy who grew up with every advantage in life. Privately educated. The whole shebang. He should be married by now with a trophy wife, lovely posh kids who call her Mammar and him Pappar. A job in the city (if he feels the need for a job). His wife would probably be in PR, events planning (setting up stuff like Cartier Polo) or jewellery design. I believe (or suspect) that his family have cut him off. Smart move on somebody who grew up totally dependent on the family's money and status. No wonder he's in and out of prison. Thievery is the only way he knows how to make ends meet with a raving heroin and crack habit.
He scored me a lovely £20 bag of gear. Nothing is as it was before the extreme
heroin drought
that thwarted supplies, reduced purity to a minuscule fraction of what it had previously been, and left multiple thousands of addicts in constant withdrawal sickness. Even now in the new year things are a mere shadow of their former selves. I used to fix up a £20 bag (0.4, 0.5g) in two or three hits. In my recent binge I've done it in one. I seriously doubt the situation will ever go back to how it was pre-drought, not for many, many months indeed.
I can't believe I've let this relapse go on and on for as long as it has done. I'm beginning to feel desperate. When I did give up heroin I was lucky. I had a psychotic episode that threw me so far off centre that gear was the last thing on my mind.
So I'm now musing on whether or not I ought to score cannabis and smoke it heavily. Cannabis makes me psychotic. My last highly "enjoyable" (not!) experience involved heavy paranoia and voices from the sky yelling down at me. I don't want paranoid psychosis, but if it stops me being a heroin addict, it's surely worthwhile. And the druggieclinic don't mind anyone smoking "dope" as it's naïvely labelled here. (Doesn't "dope" mean "heroin" in the USA? The Americans have the right idea, as in most things.)
David Chaytor, Member of Parliament is being severely punished
for swizzling Us the People of fraudulent expenses claims to the tune of over £20,000, that's more than $30,000.
He will be punished in prison for a mere nine months of his poxy 18-month sentence before the idiotic justice system lets him out on licence. Unfortunately because he's not in Malaysia or Singapore he won't be whipped on the bare buttocks until they explode and blood pools round his feet. You can see the photographs here. I'm hoping the one featuring quasi-medical treatment involves rubbing sharp rock salt crystals into the rapist's broken bum. A more severe whipping ought to have been imposed on that MP. That would make those bastards think again before claiming OUR money for duck pond islands, moat cleaning and castillation repairs on their castles. Whipping should be brought back for housebreaking (definitely ~ domestic burglars are the lowest form of scumbags and I'd be well up for rubbing rocksalt into THEIR wounds), muggers, loan sharks, cannabis dealers and most especially corrupt policemen. The ones who spray CS gas into "suspects'" eyes at point blank range. The ones who perjure themselves in court. The ones who beat up "suspects" in the cells. These should be whipped without mercy.
If you want to watch a
celebratory 20-cut spanking on a Malaysian rapist, click here
. Be warned there is blood. But who cares what happens to a sex offender? The only disappointing thing is he doesn't scream enough.
When I was about nine years old some pleasant young man tried to pick me up from our local railway station. This bastard KNEW MY NAME. Despite the fact that I'd never knowingly set eyes on this character in my entire life, he KNEW MY NAME and insisted he was here to pick me up, and I was to come with him.
I wasn't at the main part of the station, I was on the footbridge, where I waved a 1977 Silver Jubilee Union Flag at the express trains as they trundled past. This made them
honk-honk!
To my juvenile mind this made it all worthwhile.
Of course when he said are you Gledwood? I'm here to collect you I said, "No that's not me," and this threw him. The fact that we were on the bridge made things, to my present recollection dodgier still. Less chance of genuine mistaken identity. More chance of a pervert willfully picking me up for God knows what. I wish he had got caught and spanked.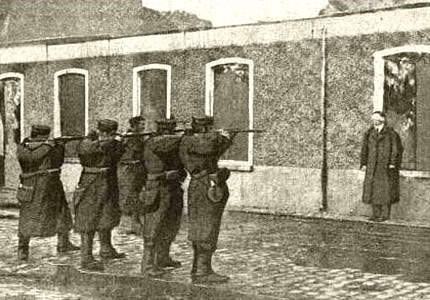 In my view paedophiles ought to be shot by firing squad. And none of this pussyminded crap about loading only one gun. Every single gun but one should be fully stocked with bullets. And I'm talking machine guns here. No crappo rifles. Death should be swift and merciful. Put the bastards out of their misery. I feel sorry for them. Remember I'm a drug addict. I know how it feels to have an addiction disapproved of by society. So kill the bastards. If the death penalty seems too harsh, institute a voluntary one. How many prisoners attempt suicide? Many, many thousands. All they need do is get them to fill out a little pink form, then within five minutes the firing squad is assembled and BANG! The bastard is dead!
I don't know what to do about this ongoing addiction of mine. Should I take up cannabis? Surely it's better to be crazy than addicted to heroin. Committing suicide is immoral so I can't do that. That's why I believe drug addicts should get the voluntary firing squad too. I'd have signed up for that years ago.
Happy new year everyone. The bastard from the council had the cheek to inform me my living conditions are of a reprehensibly low standard. Well he can go piss himself. It's my life. If I want to sleep in a nest of quilts like a tubby grizzly, that's what I shall do. He should FCK OFF and be soundly spanked. Or better still hanged.
How do I give up this terrible habit? I purchased some diazepam blues (Valium 10mg). They make me feel rubbery and nice. But nothing makes me feel nice enough. Is it really wrong to want to die? I never asked to live. Now people want to convince me that it's my duty to suffer. Why should this be so...?
I'm putting down my name for the Hospice Work I was talking about. It might take some time to get through the process of Reference Approval. I have no references, but the Druggie Agency ought to provide some. They are there, after all, to set druggie idiots back on the straight and narrow.
So wish me luck, please, and if you've any ideas, please pass them on. Click on "Answers" below ....
JOKE!
What do people call it when you talk to God?
Prayer.
What do people call it when God talks to you?
Psychosis.
What do you call somebody who thinks he IS God?
A psychiatrist.


HM Prison "Service" website. (A "service" most "service users" could well do without!)

Spanking in Singapore, Malaysia and Brunei
Illustrated: evil cannabis spliff; idiotic cannabis man; rapist's bum after 20 strokes of the cane; another criminal's bum after a good whipping ~ this is what they should have done to those corrupt MPs; Her Majesty's Prison Wormwood Scrubs where £20,000 fraudster MP will be punished but unfortunately not soundly caned.